Text to Win!
The whole month of October!
Starting October 1st, text the word 'NORTHWINS' to 55800 for your chance to win a $100 gift card and a chance to win a $500 gift card!
Join our Mobile Club for other offers and promotions! Just text the word 'NORTHTOWN' to 55800
Sweepstakes Contest Rules:
NO PURCHASE NECESSARY. INTERNET ACCESS REQUIRED
MAKING A PURCHASE WILL NOT INCREASE YOUR CHANCES OF WINNING.
The Fall Text To Win Sweepstakes (the "Sweepstakes") is open to legal residents of The United States who are 18 years of age or older for an opportunity to win a prize, including a $500 American Express Gift Card. Void where prohibited.
Sweepstakes Period: The Sweepstakes will run from 12:00:01 AM October 1, 2014 until 11:59:59 PM on October 31, 2014 (the "Sweepstakes Period"). Participants will have the opportunity to enter once during the Sweepstakes Period. Winners may only win once during the Sweepstakes Period.
Eligibility:
Each entrant must be eighteen (18) years old or older. Employees and the immediate families of employees of Glimcher, its parent(s), affiliates, subsidiaries, advertising and promotion agencies, wholesale distributors, and individual retail tenants are ineligible. This Sweepstakes is subject to federal, state and local regulations. Taxes, if any, are solely the responsibility of the winner.
How To Enter: You can enter the Sweepstakes by submitting your entry by text message using the keyword to "55800" from your wireless SMS capable handset to receive one entry in the Sweepstakes. Limit one (1) entry per person. Sponsor's designated official judging organization's computer is the official time keeping device for this Sweepstakes. No other forms of entry are valid. In case of dispute as to the identity of any entrant, entry will be declared made by the authorized account holder of the wireless SMS capable handset submitted at time of entry. Any potential winner may be requested to provide Sponsor with proof that such winner is the authorized account holder of the SMS capable handset associated with the winning entry.
Applicants must comply with all contest rules and any applicable laws, including, but not limited to, copyright, trademark, and privacy laws. Entrants grant permission to Sponsor, or its authorized agents, to televise, use, modify, reproduce, distribute, display and exhibit the artwork submitted without compensation to the entrant(s), in any form or media.
Winner Selection: Winner will be selected randomly on or about November 5, 2014 from all eligible entries received prior to the end of the Sweepstakes Period and will be notified by text shortly thereafter. Winner may not substitute or transfer prize. The decision of Sponsor will be final and binding in all respects. Sponsor reserves the right to reject any entry which is deemed, in its sole discretion, to be inappropriate, offensive, defamatory, or demeaning to any of Sponsor's reputation or goodwill.
Sponsor: This Sweepstakes is solely sponsored by Glimcher and this property. This Sweepstakes is in no way sponsored, endorsed or administered by, or associated with, Facebook or other Website company. You understand that you are providing your information to Glimcher property and not to Facebook or other Website company. The information you provide will only be used for administering this sweepstakes.
Winner Notification: The potential winner will be notified via text on or after November 5, 2014. The potential winner must sign and return an affidavit of eligibility, a liability release and a publicity release within five (5) business days of notification. If the potential winner cannot be contacted for any reason or fails to timely sign and return the affidavit/release document, such potential winner will be disqualified and will forfeit the Prize and an alternate potential winner will be selected from among all remaining eligible entries received.
Prize: The Prize is $100 Gift Card to store of their choice. One entrant will win the Grand Prize of a $500 American Express Gift Card. All winners will be notified as to when and where to pick up their prize and which prize they will be awarded via text by November 5, 2014.
Total Approximate Retail Value of Prize: $100 OR $500 The award of the Prize in connection with the Sweepstakes may constitute income taxable under the Internal Revenue Code and under applicable state income tax laws. The potential winner will have the sole responsibility for reporting any such taxable income, and for paying any and all taxes in connection therewith to the Internal Revenue Service or other taxing authorities. The Prize is subject to availability and other, additional restrictions. All expenses related to acceptance or use of the Prize which are not specified in these Official Rules as well as any applicable taxes on prize are the winner's sole responsibility. No Prize transfer or Prize substitution shall be permitted. If the Prize or a part of the Prize is unavailable for any reason as determined by Sponsor at its sole discretion, Sponsor may substitute a Prize/Prize component of equal or lesser value.
Odds of Winning: Odds of winning depend on the number of eligible entries received. Winners will need to bring their photo ID to the Management Office at this Glimcher property before November 15, 2014. Prizes not claimed by this time will be forfeited. Winner may be required to complete, sign, and return an affidavit of eligibility and receipt and publicity release at the time of redemption. Any prize notification returned to Sponsor or its agencies as undeliverable would result in disqualification.
Conditions of Participation:
1. Entrants agree to abide by and be bound by these Official Rules and the decisions of Sponsor, which are final and binding in all respects and not subject to appeal.
2. Sponsor's agents and designees shall have complete discretion over interpretation of these Official Rules, and Sponsor reserves the right, in its sole and absolute discretion, to disqualify any entry submission that violates the criteria stated herein. Any dispute, controversy or claim arising out of or relating to the Sweepstakes, or an entrant's participation therein, or the use of any material, or these Official Rules, shall be governed by the laws of the State of which the property is located without regard to choice-of-law rules or principles. In the event of a dispute involving the identity of an entrant who submitted a submission, the submission will be deemed to be submitted by the natural person whose name the SMS capable handset associated with the winning entry is registered in at the time of entry. Proof of such account information may be required before a winner's identity is deemed verified and a Prize is awarded
3. Entrant release and agree to hold harmless Glimcher property, Glimcher Development Corporation, Merchants Association, and their respective parent companies, affiliates, subsidiaries, promotion/marketing/public relations agencies and the directors, officers, agents, shareholders, representatives, employees, successors and assigns of any of the above entities (the "Protected Parties"), from any and all liability associated (directly or indirectly, in whole or in part) with the entrant's participation in the Sweepstakes or any Sweepstakes-related activity and receipt, acceptance, possession or use/misuse of the Prize. By accepting the Prize, winner grants Sponsor (and its respective designees) the right to print, publish, broadcast and use, worldwide in any media now known or hereafter developed, including but not limited to the world wide web, at any time or times, the winner's name, portrait, picture, voice, likeness and biographical information as news or information and for advertising, trade and promotional purposes without additional compensation, and without review, approval or further notice.
4. Non-Eligibility: Employees and the immediate families of employees of Glimcher, its parent(s), affiliates, subsidiaries, advertising and promotion agencies, wholesale distributors, and individual retail tenants are ineligible. This Sweepstakes is subject to federal, state and local regulations. Taxes, if any, are solely the responsibility of the winner.
5. Release: By accepting a prize, winner agrees to release and hold Sponsor and its agencies harmless from all losses, damages, rights, claims and actions of any kind resulting from acceptance, possession or use of any prize, including without limitation, personal injuries, death and property damage. By participating in this Sweepstakes, participant agrees to be bound by all the Official Rules of this Sweepstakes.
Limitations of Liability: Participation is subject to the Privacy Policy of Glimcher and the property No responsibility is assumed by Sponsor (or its agents) for lost, late, incomplete, irregular, damaged, misdirected or illegible entries/submissions; or for any computer, telephone, cable, satellite, network, electronic or Internet hardware or software malfunctions, failures, connections, availability or garbled, jumbled, inaccessible or corrupted transmissions, service provider/internet/web site/use net accessibility or availability, traffic congestion or unauthorized human intervention. Sponsor is not responsible for any incorrect, incomplete or inaccurate information, whether caused by web site users or by any of the equipment or programming associated with or utilized in the Sweepstakes and assume no responsibility for any error, omission, interruption, deletion, defect, delay in operation or transmission, communications line failure, theft or destruction or unauthorized access to any website. Sponsor is not responsible for injury or damage to entrants' or any other person's computer (including data/information stored thereon) related to or resulting from participating in this Sweepstakes or downloading/uploading materials from/to any website. Should Sponsor determine in its sole discretion that an entrant (or other individual) has tampered with the Sweepstakes in any manner, such entrant's submission will be disqualified (if applicable) and Sponsor may seek additional remedies/redress to the full extent as allowed by law. Persons who tamper with or abuse any aspect of this Sweepstakes, or act in violation of the Official Rules, or act in any manner to threaten or abuse or harass any person, or violate these terms of service, as solely determined by the Sponsor, will be disqualified. Neither Sponsor nor its agencies are responsible for any incorrect or inaccurate information whether caused by website users, tampering, hacking, or by any of the programming or equipment associated with or used in this Sweepstakes, and assumes no responsibility for any errors, omission, deletion, interruption or delay in operation or transmission or communication line failure, theft or destruction or unauthorized website access.
Force Majeure: If, for any reason, the Sweepstakes (or any part thereof) is not capable of running as planned by reason of infection by computer virus, worms, bugs, tampering, unauthorized intervention, fraud, technical failures, fire, flood, storm or other natural cataclysm, riot, strike, civil commotion, governmental regulation or any other causes beyond the control of Sponsor which, in the sole opinion of Sponsor, corrupt or affect the administration, security, fairness, integrity or proper conduct of the Sweepstakes (or any part thereof), Sponsor reserves the right at their sole discretion to cancel, terminate, modify or suspend the Sweepstakes and conduct the judging and select the prize winner in a manner which is fair, equitable and in accordance with these Official Rules, as determined by Sponsor in its sole discretion. Notice of such action will be posted on Glimcher. Failure of Sponsor to enforce any provision of these Official Rules shall not constitute the waiver of such provision.
Indemnification: Each entrant shall indemnify, hold harmless and defend the Protected Parties against all Losses incurred in any claim brought against the Protected Parties alleging that, the such entry infringes, violates or misappropriates any copyright, trademark or any other intellectual property rights. Such entrant at its sole cost, shall indemnify and defend the Protected Parties and hold the Protected Parties harmless against such claim, perform any negotiations for settlement or compromise of such claim, and pay any and all settlements reached and/or costs and damages incurred in connection with such claim, together with reasonable attorneys' fees. For purposes of this provision, "Claim" means any civil, criminal, administrative, or investigative claim, demand, action, or proceeding (including arbitration) asserted, commenced or threatened against a person, and "Losses" means all judgments, awards, settlements, liabilities, damages, liens and claims, and all related costs, expenses and other charges suffered or incurred as a result of or in connection with a Claim, including reasonable attorneys' fees and disbursements, costs of investigation, litigation, settlement and judgment, and any taxes, interest, penalties and fines with respect to any of the foregoing.
Publicity: Except where legally prohibited, by entering winner grants permission for Sponsor and its agencies to use his/her name, photograph, voice and/or likeness, for advertising and/or publicity purposes without further consent or additional compensation.
Winner List: For a list of winners, send your name and complete address with a written request for receipt within thirty days of the winner announcement date:
Enter to win, Glimcher Properties, Merchants' Association
Sweepstakes Official Rules Request: please visit the Glimcher Property's Management Office. Need more help? Call 606.325.9570 ext 7325.

Mall-O-Ween
October 31st 6pm-8pm
Trick-or-Treating will start at 6, stores that participate are marked with a sign. Please note that the majority of stores do not participate in trick-or-treating.
There will be an activity outside of Burlington Coat Factory, Herberger's and Best Buy. There is no order or time frame, you can choose where to go and how long to stay at each activity.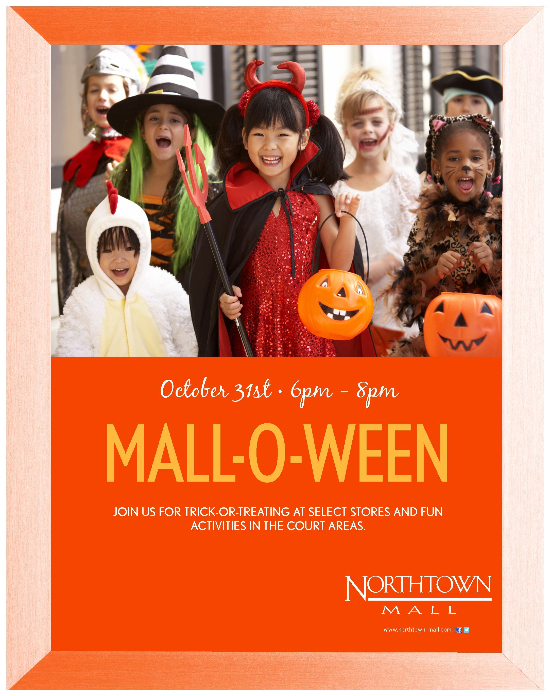 Bath & Body Works
25% off Any Purchase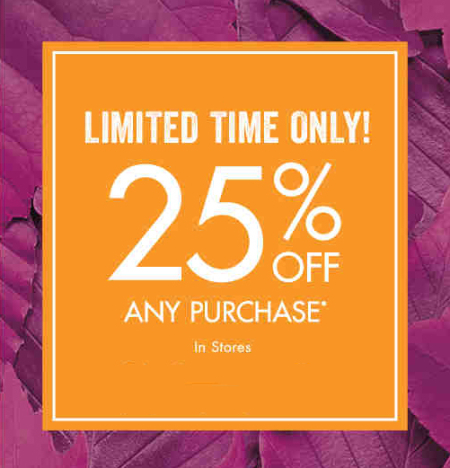 Shop in store and take 25% off on any purchase.
Limit one offer per customer per day; offer may not be combined with any other offers, coupons or discounts (including associate discounts). This offer is not redeemable for cash, gift cards, third party or clearance merchandise, nor is it valid toward previous purchases. Return of discounted item(s) will be for the price actually paid and the value of this offer will be forfeited. Offer valid for dates shown above. No rain checks issued. Void if altered, copied, transferred, auctioned or sold. Selection may vary by store and online. Other restrictions may apply.
[More...]
Burlington Coat Factory
Up to 65% Off Sweaters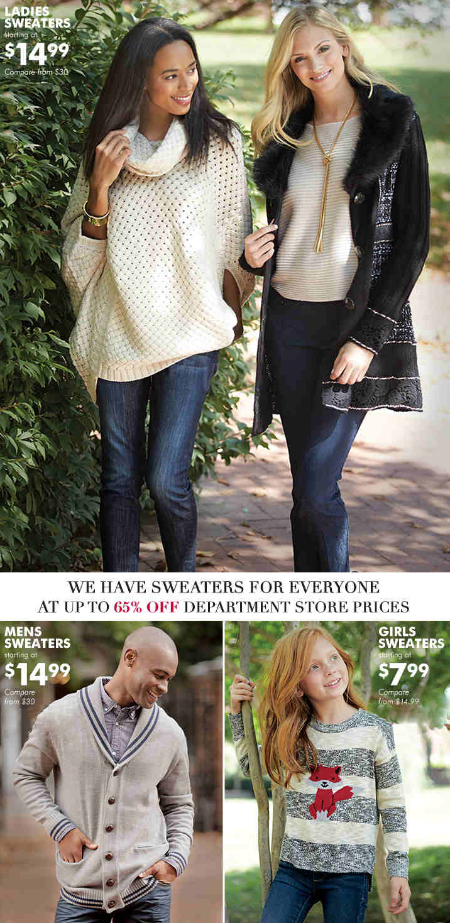 Hurry in and take up to 65% off on sweaters for everyone. Style and selection vary by store. See store for more details.
Claire's
Halloween Headquarters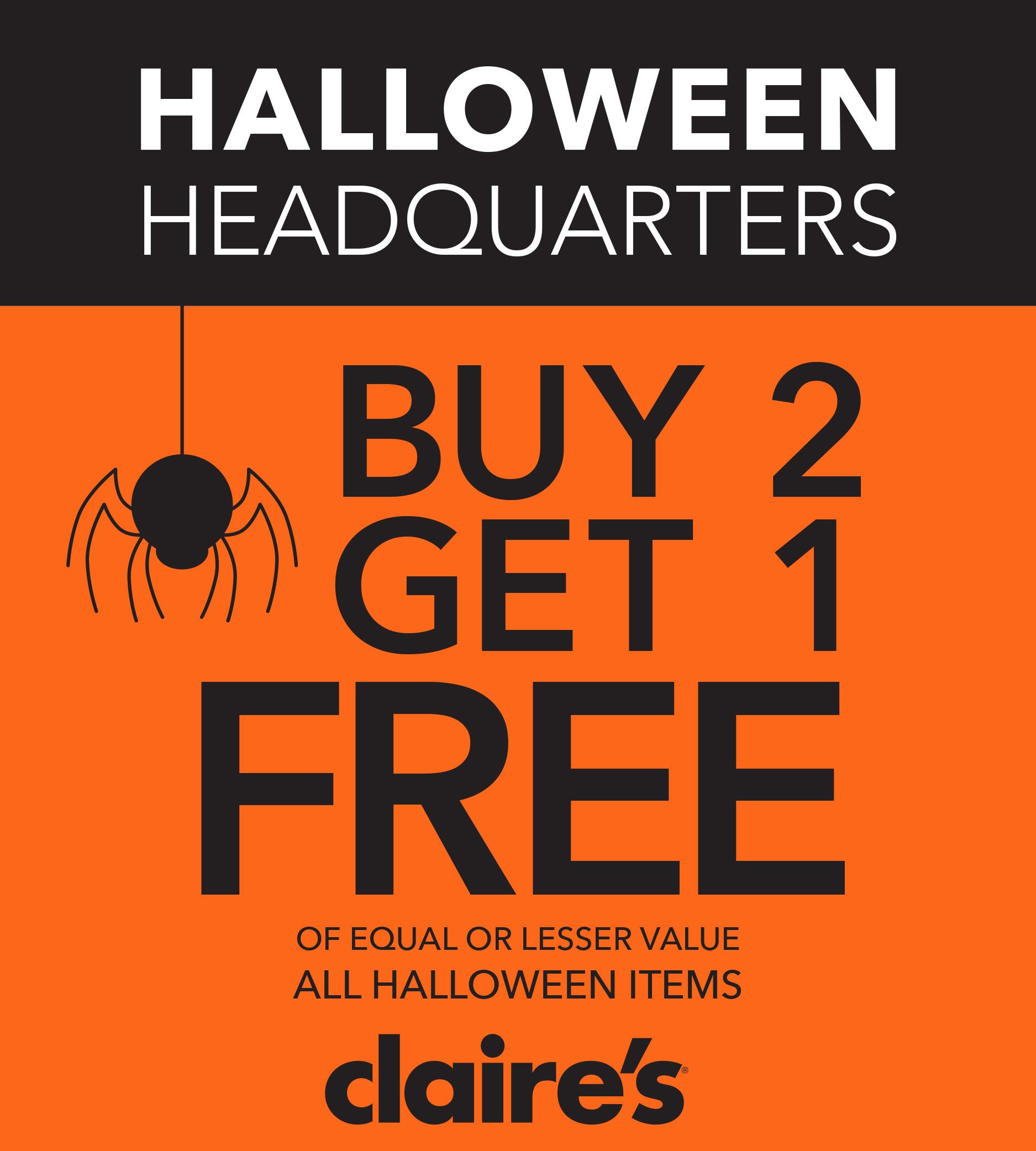 All Halloween Merchandise Buy 2, Get 1 Free!
[More...]
DEB
New Fall Arrivals 50% Off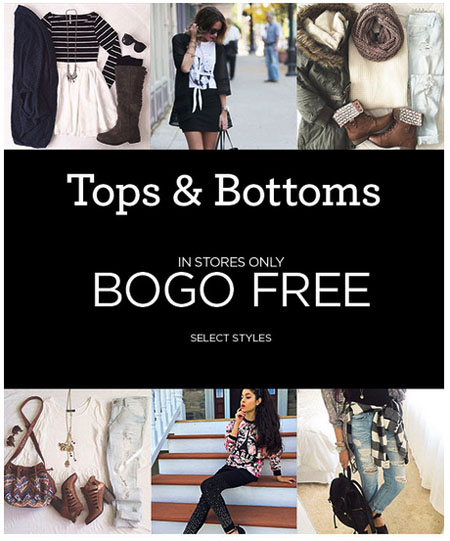 Some exclusions may apply. See a sales associate for more details. 
[More...]
Express
Grab These Handbags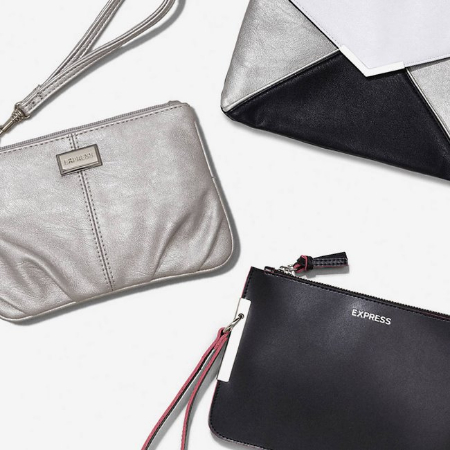 Handbags- a gal needs at least one in every size. Shop these great handbags in store!
GNC
Deal of The Day


Shop in store today and enjoy BOGO 50% off mix & match select BSN products.
[More...]
Helzberg Diamonds
Colorful New Gemstones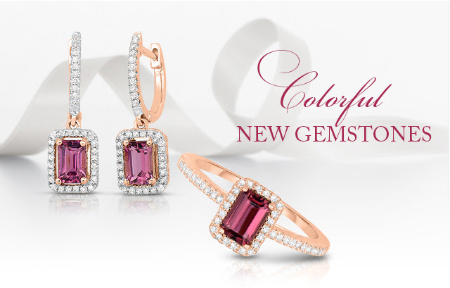 Bring a pop of color to your jewelry collection with our latest eye-catching treasures. Get our latest jewelry collection in store today.
[More...]
Home Depot
Get This Storage Solution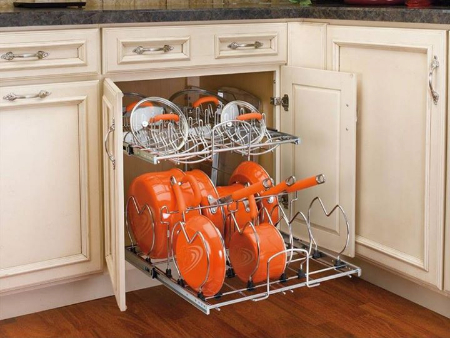 Make the most out of your kitchen cabinets with a storage solution that keeps your pots, pans and lids together. Shop 
Hot Topic
BOGO 50% Off Entire Store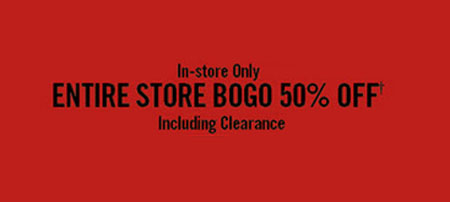 Offer available in stores only. Limited time only.  Price of second item must be of equal or lesser value. Discount taken off lowest priced item(s). Discount will be taken at register in stores. Offer not available on CDs, DVDs, vinyl records, prior purchases, gift cards, shipping or taxes. Exclusions may vary. Hot Topic, Inc. reserves the right to end or modify this promo at any time. See a sales associate for more details. 
Karmelkorn / Orange Julius
Two For Tuesday
Two For Tuesday at Karmelkorn. Purchase a small or larger plain popcorn or flavored popcorn and receive a small of equal of lessor value FREE.
Sheer Treasures
Essential Oils to fight Germs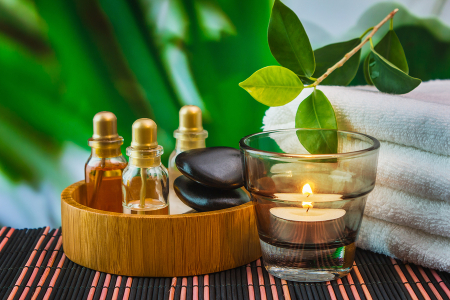 Make your own cleaning solutions with Pure Essential Oils.  We also offer Pirate Oil™ which kills up to 99.96 per-cent of all airborne germs and bacteria.  Lavender Essential Oil is on sale for $9.99 for a 5 ml bottle.
Subway
$3 Six-Inch Select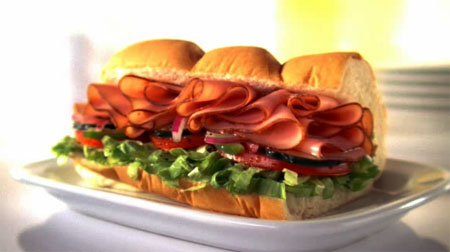 The Black Forest Ham has never been better. Load it up with all the crunchy veggies you like on your choice of freshly baked bread. Even try it fresh toasted with melty cheese and mustard. 
Prices and participation may vary. Additional charges for extras. Plus tax. Prices higher in Alaska and Hawaii.
[More...]
Things Remembered
Find the Perfect Wedding Gift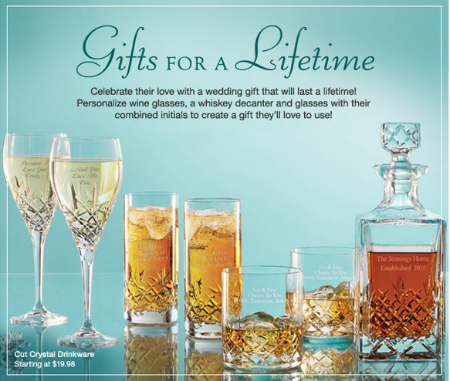 Give the perfect gift that will last a lifetime. Personalize wine glasses, whiskey decanter, and glasses with their combined initials to create a gift they'll love to use. Stop in store today. 
Tradehome Shoes
Huge Fall Sale!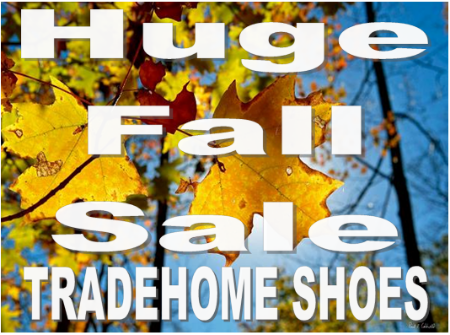 Stop by and check all the great deals on seasonal styles for the entire family.  All your favorite brands with great sale prices!
Victoria's Secret
Shop New Arrivals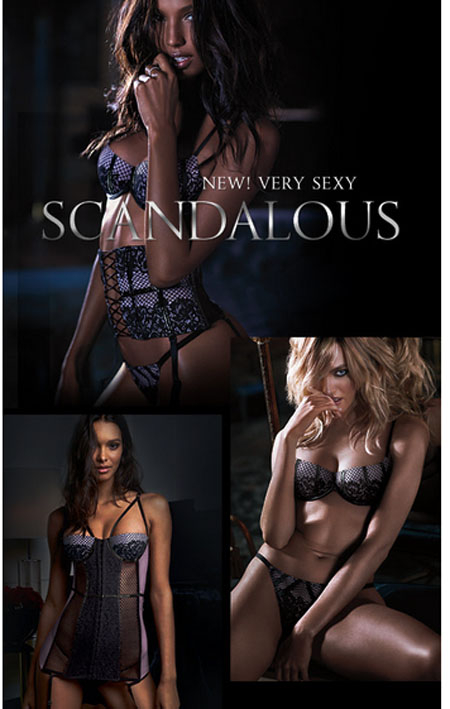 Show your Scandalous side. Stop by and shop.
[More...]
Zales
Up to 30% Off Storewide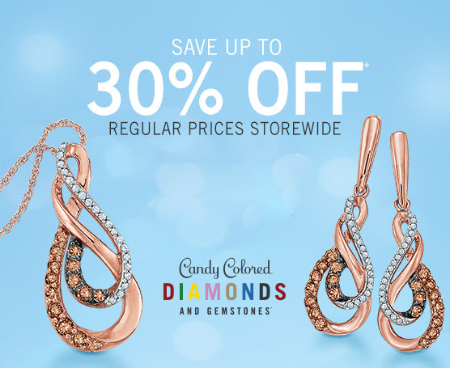 Save up to 30% off regular prices storewide valid for a limited time. Offer excludes select designer collections, loose diamonds, specially-priced items, special events, special orders, gift cards, repairs, warranties and prior purchases. Promotions, prices, styles and availability may vary by store. See store for more details.
rue21
50% Off Halloween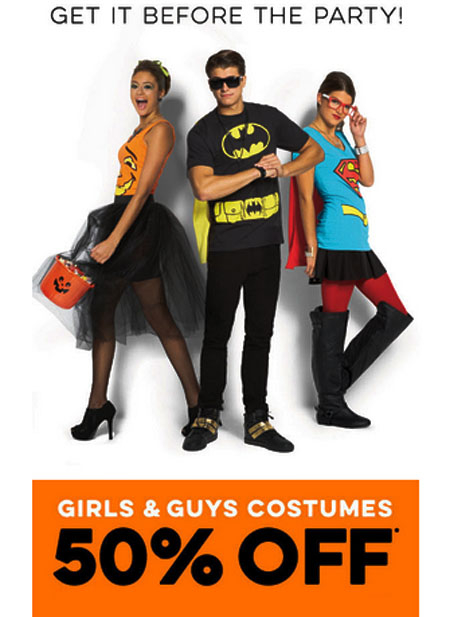 Select styles vary. See associate for details.
[More...]
Sign Up For Our Newsletter!